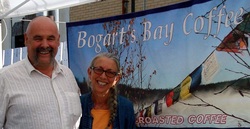 Our Coffee Story ...
... the short version!
---


When we moved to North West Saskatchewan from India in 2009, we wanted to be sure we would have a reliable supply of fresh roasted coffee - so we brought with us a hand-operated, charcoal-fired coffee roaster – along with a stock of organic green coffee beans.

We were not disappointed. The coffee was good.

Very good.

Pretty soon we found ourselves supplying friends and neighbors and ran out of beans.

Fortunately we found an excellent broker of organic, fair trade green coffee.

We started selling our coffee beans in a few local stores, and this summer, started selling at the Farmer's Market in N. Battleford every Saturday morning

Our home and roaster are located on Bogart's Bay of Birch Lake – named after Orly Bogart, a homesteader who died in France during W.W.1

We hope you enjoy our coffee – and do let us know what you think – we value any feedback!