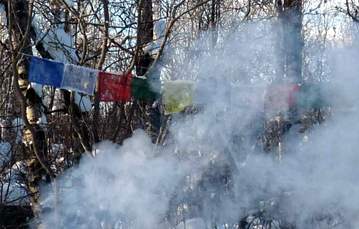 Wendy and I, and of course, our growing puppy, Bogart, join in wishing everyone best Solstice wishes as we begin a new solar year and welcome the return of the sun..
Our prayer flags fly with our wish that all may be well and happy in the year ahead.
It's a -30C day here at Bogart's Bay, and (despite a frozen sewer) we are all warm, well fed, and feeling very blessed. We're most grateful for all the support we've received this year and will keep doing our best to bring you the freshest and best organic coffee we can.